One day, I decided to sew a Carrick for my husband. He has wanted one for some time, and I needed another excuse to learn more tailoring, fitting, and sewing techniques.
I decided to go for a measure of historical accuracy, and to engage John in the process, so created a Pinterest board on Gentlemen's Carrick. I think of it as a highwayman's coat. So, if John starts robbing coaches on lonely stretches of the moor, it isn't his fault, it was the coat. There were quite a few details we discussed, the height of the collar (staves off the wind whipping over the moors), whether the cape should have one layer or three (one, unless you are a fop), the length (long enough to sweep dramatically), the kick pleat in back (easier for wearing while horseback riding), and how many pocketses it should have (several).
This is the final product, and what follows is a description of the process and learnings.
Here is my handsome man, looking good. Sadly for him, I finished it during late Spring 2016, so he had exactly two chances to wear it, (the office, and the mall) but he enjoyed it tremendously, so I hear.
Once I understood what I was making, I found a pattern that could act as a good baseline coat. This Simplicity 4083 did the trick. I also added cuffs from Simplicity 4923.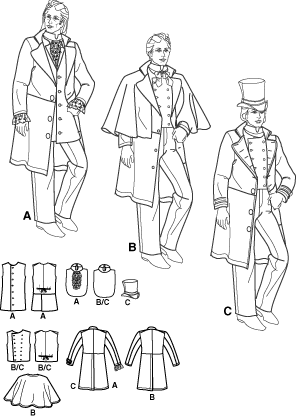 Simplicity 4083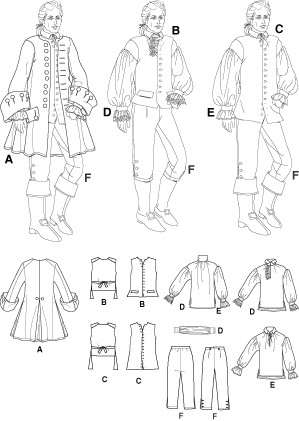 Simplicity 4923
Having something fit beautifully is a revelation, and I wanted John to experience that, so I spent a fair amount of time with the muslin. We purchased a medium-heavy, black cotton woven denim for the finished garment. Rather than trying to make this super-tailored, I decided that I wanted to do some moderate tailoring, i.e. learn some techniques, but not worry too much about making tailor-level workmanship. Even so, I added quite a bit of heavy canvas to the jacket interior, along with horsehair canvas. The shoulders were built up to create that smooth, armor-like structure to the front, shoulders, and back.
Shoulder padding layered and graded for a smooth effect, and to even out a slight slope to the right.
Stay tape along the lapel edges, and roll line.
Showing canvas, interlining, built-up shoulder pads, and sleeve heads. There's some canvas under there somewhere.
Pirate cuffs. The buttons add a slight military feel. The false button holes are a narrow leather cording. A bit of hand-stitching at the cuff.
A single-welt pocket on the inside, along with cool labels hubby bought me for Xmas. The lining is actually a navy blue.
Handsome man, also showing the stiffened, extended collar.
I end up altering the pattern significantly to match the style of coat my husband wanted, my own design decisions, and executed some tailoring techniques.
a) Extended the height of the collar, added a stiff interfacing to keep the height and shape
b) narrowed the lapels
c) borrowed sleeve cuffs from Simplicity 4923
d) fully lined with a navy, paisley, jacquard
e) added pocket flaps to the back (historical detail)
f) added pleats on either side of the back kick pleat, with a button at the top (historical detail)
g) added double-welt + flap pockets on front
d) added a single welt pocket to interior
e) used tailoring techniques for shoulder pads, lapels, and body canvas including interlining, horsehair canvas, stay tape, and cotton batting
f) fully tailored to my husband
g) extended the length by about 8 inches
h) added a hanging loop at neck
In the end, it became so heavy that hauling it between sewing table, and dress form became a task.
John and I shopped for the lining together. He picked out a few things he liked, and I steered him toward fabric weight and weave that would suit. He picked a beautiful navy blue jacquard, and it turned out great.
Learnings:
Sewing order is important. There were a few design details, like the button holes, that I didn't want to add until the garment was complete and I could really look at the hang of the jacket. However, with the weight of the assembled coat, it became difficult to sew them. In hindsight, I would determine the button, buttonhole position at the muslin stage, and sew the button holes before attaching jacket top to bottom panels.
Again, because the muslin wasn't a similar weight as the fashion fabric, and I left off a few design details on the muslin, I ended up fussing with the fashion fabric more than I wanted to.
I hadn't bought the Alison Smith Tailoring class until I was well into building up the canvas, so that part is a little free-form, and the roll of the lapel isn't Savile-Row-Ready. However, the canvas, interlining, horsehair, and cotton batting all worked together to create a very smooth chest to shoulder.
Welt pockets are worth practicing. There are several techniques you can use, and I ended up liking this guy's the best. [
YoutubeVideo
] I must have done half a dozen before committing to the fashion fabric, but they are really beautiful, and actually kind of fun.
Tailoring References:
Essential Guide to Tailoring: Structure and Shape, Alison Smith, Craftsy.com
Haute Couture Techniques, Angelina di Bello
The Fitting Book, Angelina di Bello
Couture Sewing: Tailoring Techniques, Claire Shaeffer
The Dressmaker's Handbook of Couture Sewing Techniques, Linda Maynard
General References:
Couture Dressmaking Details, Alison Smith, Craftsy.com
Designing Details: Pockets, Kenneth King, Craftsy.com
The Couture Dress, Susan Khalje, Craftsy.com
I hadn't really planned to write a sewing blog, as this is such a hobby and blogging can become a chore, not a joy. I have enough chores in my life right now, thank you. But, after posting the project on
patternreview.com
,
kollabora
, and
Craftsy
, I found the most satisfaction with the pattern review crowd. Going forward, I'll probably blog it, review the pattern on pattern review, the maybe link to the blog from a couple of places. I still think Craftsy is a good place for sharing and discussion, but the tools aren't quite there yet.
I hope you enjoy, and check back for more as I go. Slowly, very slowly.